Self-awareness is like great sex: everyone thinks they have a ton of it, but in reality no one knows what the fuck they're doing.
Below are three levels of self-awareness along with a caveat. Why three levels? Who the fuck knows? Just go with it.
LEVEL 1 – WHAT THE HELL ARE YOU DOING?
There's a lot of pain and suckage in life. Over the last 30 days, how many times have you:
Struggled with a relationship with someone close to you?
Felt lonely, isolated or unheard?
Felt unproductive or lost on what you should do?
Been underslept, under-fed, low energy, or unhealthy?
Stressed about work or finances?
Uncertain about your future?
Been physically hurt, ill, or debilitated?
Chances are if you add all of those up, you're going to be pretty close to 30 out of the last 30 days. That's a lot of suckage!
Put another way, we need to make sure that we're choosing our distractions and our distractions aren't choosing us. We're the ones opting into the distraction, rather than simply being unable to opt out of distraction. We need to know when we're checking out. Our distraction needs to be planned and moderated in bite-sized chunks. We can't binge on distraction.
Most people spend much of their day drowned in a sea of distraction without even realizing it. I do it, too. The other night at dinner, I pulled out my phone to look at my calendar, and next thing I knew, I was browsing video game forums on Reddit. Meanwhile, my wife is staring at me as if I just had a lobotomy or something.
For years I used to carry around an iPod and put headphones on every time I went into public. Leaving the house without it felt like I was naked. For years, I just assumed I was really into music way more than other people, that there was some special need inside me for badass tunes that other people simply didn't understand.
But eventually, it became clear this was a compulsion; I wasn't in control of it. My headphones were a way of protecting and disconnecting myself from others. They were less about a bottomless passion and more about simple fear. Being around strangers without my headphones made me feel anxious and exposed.
LEVEL 2 – WHAT THE HELL ARE YOU FEELING?
Most people glide on the surface of life on Level 1 of self-awareness. They do what they're told. They follow directions. They distract themselves with the same shit over and over. At no point have they allowed themselves to express individual emotions and reactions to what's going on around them.
Once they're removed from these contexts they start to realize things like, "Oh damn, I'm really sensitive and am sad a lot, and holy shit, I never allowed myself to feel that because I thought it made me weak or pathetic, but actually my sadness is part of what makes me different."
The first is that emotions are powerful, especially for people who have been suppressing their emotions for most of their lives. Suddenly opening up to them will feel life-changing and incredibly profound.
For instance, look at this puppy.
But wait, hold on, this one deserves its own section.
CAVEAT – THE ENDLESS NAVEL-GAZEY SPIRAL OF DOOM
Upon arriving at the top of the mountain, the sage greeted the young man and invited him to ask him anything (note: this was way before Reddit threads). The young man then asked him his question, "Great sage, we stand upon the world, but what does the world stand upon?"
The sage immediately replied, "The world rests upon the back of a number of great elephants."
The young man thought for a moment, and then asked, "Yes, but what do the elephants stand upon?"
The sage replied again, without hesitation, "The elephants rest upon the back of a great turtle."
The young man, still not satisfied, asked, "Yes, but what does the great turtle rest upon?"
The sage replied, "It rests upon an even greater turtle."
The young man, growing frustrated, began to ask, "But what does–"
"No, no," the sage interrupted, "stop there–it's turtles all the way down."
For example, here's me spiraling through layers of questioning while writing this section right now: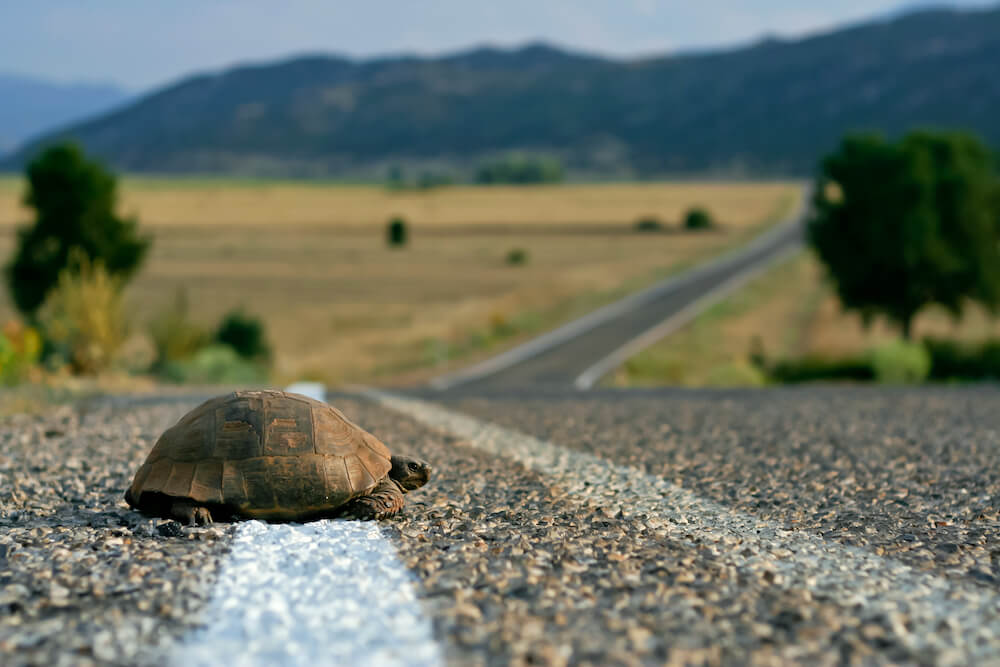 And with that, I'm going to stop thinking about this section and just go to bed.
LEVEL 3 – WHAT THE HELL ARE YOUR BLIND SPOTS?
The more you become aware of your own emotions and your own desires, the more you discover something terrifying: you are full of shit.
We realize that a large percentage of our thoughts, arguments, and actions are merely reflections of whatever we are feeling in that moment. If I am watching a movie with my wife and I'm cranky because I had an argument with my editor that afternoon, I'll decide that I hate the movie. And the more my wife tries to convince me the movie was good, the more I'll relish the fact that I get to argue with her about it – because it suddenly becomes a way to justify my anger.
(By the way, if you ever wondered why we tend to fight the most with the ones we love the most, this is partly why: we can use them as an emotional punching bag to validate all the crap that we are feeling, whether they deserve it or not – usually not.)
We all think of ourselves as independent thinkers who reason based on facts and evidence, but the truth is that our brain spends most of its time justifying and explaining what the heart has already declared and decided. And there's no way to fix that until you've learned to recognize what the heart is saying.
Our memories are unreliable and often flat-out wrong, especially when it comes to remembering how we felt at a certain time or place. Our ability to predict our thoughts and feelings in the future is even worse.
We constantly overestimate ourselves. In fact, as a general rule, the worse we are at something, the better we think we are, and the better we are at something, the worse we believe we are.
Contradictory evidence can often make us surer of our position rather than inspire us to question it.
Our attention naturally only focuses on things that already cohere to our pre-existing beliefs. This is why two people can watch the exact same event and come away with two completely contradictory memories of it (think of two opposing sports fans both convinced they saw the ball land in or out of bounds.)
Most of us, when given the opportunity, will tell small lies to improve our results. Sometimes (i.e., usually), we'll even tell these lies to ourselves.
We are abysmal at estimating statistics, making cost-benefit decisions, or reasoning about large populations of people. It's actually both depressing and hilarious how bad we are this.
I could keep going, but I'll stop there. Basically, the point is that you suck, I suck, everybody sucks. Humans kind of suck. All the time.
Most of this comes down to a few things:
Hold weaker opinions. Recognize that unless you are an expert in a field, there is a good chance that your intuitions or assumptions are flat-out wrong. The simple act of telling yourself (and others) before you speak, "I could be wrong about this," immediately puts your mind in a place of openness and curiosity. It implies an ability to learn and to have a closer connection to reality.
Take yourself less seriously. Most of your thoughts and behaviors are simply reactions to various emotions. And we know that your emotions are often wrong and/or meaningless. Ergo, you should take your shit less seriously.
Learn your bullshit patterns. When I get angry, I get argumentative and arrogant. When I get sad, I shut down and play a lot of video games. When I feel guilty, I word vomit my conscience all over people. What are your ticks? Where does your mind go when you feel sad? When you feel angry? Guilty? Anxious? Learn to spot your coping mechanisms because that will tip you off next time you're distracting yourself from your feelings. I realized years ago that when I'm healthy and happy, I enjoy playing video games a few hours a week. But when I start binging on a game, staying up all night and skipping work, it's almost always because I'm avoiding some problem in my life. This has become a huge cue for me to sit down and figure out what's going on with myself.
Recognize the problems you create for yourself. My biggest problem is probably not being able to talk about my anger or sadness. I either escape through video games or become passive-aggressive by sniping at people around me. Both of these tendencies don't help me. And I've learned to recognize myself when I start doing them. I'm able to say, "Hey Mark, you do this shit when you're sad and you always regret not talking to someone." Then I go talk to someone.
Be realistic. It's not about removing your faulty psychological reactions. It's about understanding them so that you can adjust to them. The same way we all have some skills and activities we're better at than others, we all have emotions we're better at than others. Some people are bad with happiness but good at managing their anger. Others are terrible with their anger but relish their happiness. Other people never feel depressed but suffer uncontrollable guilt. Others never feel guilty but struggle with feelings of depression. Where are your strong emotions and weak emotions? Which emotions do you respond poorly to? Where are your biggest biases and judgments coming from? How can you challenge or re-evaluate them?
Also, if you're having trouble with this, one of the best ways to wrap your head around your blind spots is to get feedback from other people. Others often have a better perspective on us than we do, especially friends and family close to us. Asking them in a simple and safe way (by "safe," I mean not exploding and threatening to castrate them with a spoon for insulting your honor) can lead to great gains in self-awareness.
This, of course, is much easier said than done.
THE RESULT OF SELF-AWARENESS HAS TO BE SELF-ACCEPTANCE
There's a certain type of person who will read all this and think about it and recognize their shitty emotions and recognize their shitty thought patterns and recognize all the little selfish tricks and traps their mind places and do all the work and practice the self-discovery and open themselves to their emotions and their big takeaway from all this will be, "I'm a piece of shit."
Obviously, walking around and calling yourself a piece of shit for every other thought or emotion you have is not exactly what we would call the zenith of emotional health. In fact, this tendency is, ironically, downright shitty itself.
These emotional outbursts and cognitive biases, they exist in everyone, all the time. You're not a bad person for having them just as other people aren't necessarily bad people for having them either. They're just human. And you're just human.
I saw a news story recently about some looney conspiracy theorist who believes that all mass shootings are staged. This guy actually travels to communities where these mass shootings occurred and confronts the victims. He stands in front of parents of dead children and calls them liars.
I cannot imagine a greater definition of "evil" or "piece of shit human" than this guy.
Welcome to empathy.
Empathy can only occur in proportion to our own self-acceptance. It's only by accepting the flaws of our own emotions and our own minds that we are able to look at the flaws of the emotions and minds of others, and rather than judge them or hate them, feel compassion for them. "Oh, he's fucked up, too. I used to believe shit like that. I wonder what he's running from?"
This isn't to say that empathy and compassion will solve all the world's ills. They won't. But they certainly won't make anything worse.